MEET THE FOUNDER
NEENA JHANJEE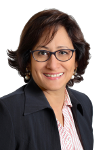 neena@divaodysseys.com
---
"Each journey was diverse and exceptional whether swimming with the Manta Rays in Maldives, 'Zenning' with the Bodhisattvas in Cambodia or digging into the exotic hot-pot in Hong Kong. Sharing the experience with like-minded buddies was what made it even more special. This inspired me to create Diva Odysseys -a platform where divas could meet, travel and see the world"
Diva Odysseys is the pet project of Neena Jhanjee. Neena is an avid reader and a gypsy at heart. Coming from an academic background of history and archaeology, she built a successful career in the field of finance spanning 13 years in banking and private equity, holding senior executive positions. In the course of her career, she has been associated with several esteemed organizations including Idea Cellular, HDFC Bank, IndusInd Bank and Capvent.
Neena created the Diva Odysseys platform inspired by her passion for travel, history, culture and food. She's traveled on work and leisure to locales like Hong Kong, Australia, Cambodia, Maldives, Seychelles, London, Paris, Switzerland and the Amalfi Coast.
From her experience, she realized that often travel-lovers were restrained by lack of like-minded company. This is further amplified by a shortage of tour operators who could offer suitable end-to-end travel solutions. Most offer the "drive-by" tours to popular tourist spots to pack in maximum POI in minimum time and this does not allow one to experience the true flavor of the place.
Besides this, is the question of the right-fit of co-travelers. Most operators focus on group holidays for couples or families, which end up isolating women traveling solo. This led to the formation of Diva Odysseys – fully escorted, creative, stylish tours where like-minded divas could soak-up the sights and sounds and also have some space to enjoy some 'me' time to rejuvenate and experience a memorable 'Odyssey' in a safe and fun environment.